This smoothie is the ideal way to make sure you get all of your 5 a-day.
5 A-Day Smoothie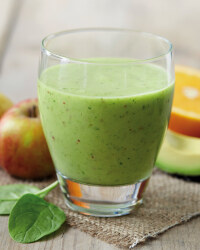 Recipe Information
Ingredients
1 Cox or Braeburn Apple
1 Fresh Pear
10g Spinach Leaves
70ml Asia Coconut Milk
¼ Ripe Avocado, peeled
150ml Fresh Squeezed Orange Juice
Method
Wash and core the apple and pear and chop into small chunks.
Chop the avocado flesh into chunks.
Add all the ingredients to the smoothie maker.
Pulse for 3 minutes till well blended and serve.