Spiced Pumpkin Mash & Chicken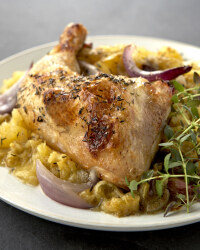 Recipe Information
Ingredients
1 Pumpkin, whole
1 pack Chicken Leg Quarters
1 Red Onion
1 tsp Ground Cumin
1 tsp Ground Ginger
2 cloves Fresh Garlic
1 tsp Thyme
2 tbsp Olive Oil
Salt and Pepper
Method
Pre-heat the oven to 180°c.
Peel, de-seed and dice the pumpkin.
Toss in a bowl with half the olive oil, the onion, cumin, ginger, garlic and some salt and pepper.
Roast in the oven for 35-40 minutes until soft.
Rub the chicken skin with olive oil and sprinkle with the thyme and salt and pepper to taste.
While the pumpkin is cooking, roast the chicken in a separate tray for 40minutes.
When the pumpkin is cooked add to a blender and blitz until smooth in consistency.
Serve the roasted chicken on top of the rustic mash.