Smooth smoked salmon pâté, with rocket, on small crispbreads.
Chef's Tip
The pate can be made several days in advance and refrigerated till needed
Smoked Salmon Pâté Canapés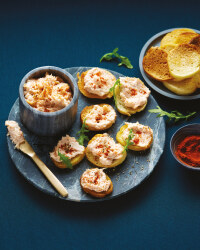 Recipe Information
Ingredients
2 x 110g packs Oak Roasted Salmon Flakes
80g Plain Soft Cheese
1 tsp Horseradish Sauce
10ml Lemon Juice
80g Mayonnaise
1 'Bake at Home' Baguette
1 tsp Paprika
Rocket Leaves
Method
Put the salmon, mayonnaise, soft cheese, lemon juice and horseradish sauce into a food processor and process to a smooth pâté.
Thinly slice the baguette and toast or griddle the slices on both sides.
Place a couple of rocket leaves on each piece of toast, then a spoonful of pâté, sprinkle over some paprika and serve.