This recipe is great for a spicy snack to graze on.
Pumpkin & King Prawn Dopiaza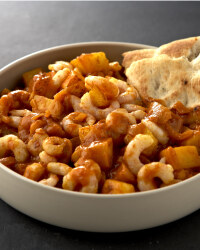 Recipe Information
Ingredients
350g diced Pumpkin
2 tbsp Olive Oil
Jumbo King Prawns
200g Curry Sauce
Naan Bead
Method
Preheat the oven to 180°C.
Toss the pumpkin in a bowl with half the olive oil and half the spice sachet from the jar.
Roast in the oven for 30 mins.
Toss the defrosted prawns with the rest of the olive oil and spice cap and leave to marinade until the pumpkin is tender.
When the pumpkin is cooked fry the king prawns in a hot pan for 5 mins then add the sauce and the pumpkin and simmer for 8 minutes.