Grilled sweetcorn brushed in a garlic and parsley butter and topped with parmesan.
Garlic & Parmesan Corn on the Cob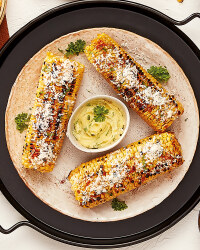 Recipe Information
Ingredients
4 Corn on the Cob
70g Butter, softened
2 Garlic Cloves, peeled and minced
5g Fresh Parsley, finely chopped
30g Parmesan Cheese, grated
½ tsp Paprika
Black Pepper
Method
Grill, griddle or BBQ the corn for 15 minutes, turning as you cook, until charred and cooked.
Meanwhile, mix together the butter, garlic, parsley and some black pepper together in a bowl.
Once the cobs are cooked, brush with the garlic butter, sprinkle with parmesan cheese and paprika and serve.