Try something different with this delicious chocolate refrigerator cake.
Chocolate Refrigerator Cake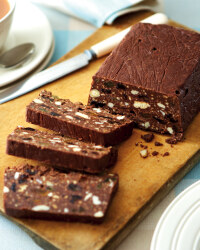 Recipe Information
Ingredients
2 x 200g bars Dark Chocolate
170g Creamy Butter Unsalted
200g Biscuit Co. Digestive Biscuits
1 x 300g pack Wholefoods Trail Mix
Method
Line a 2lb loaf tin with cling film.
Break up the chocolate and put into a large heatproof bowl along with the butter.
Melt the chocolate mixture in the bowl resting over a pan of simmering water.
Crush the digestive biscuits, either in a food processor or with a rolling pin.
Chop the trail mix into small pieces - again you can do this in the food processor.
Take the chocolate off the heat and add the biscuit crumbs and chopped trail mix, then mix well.
Pour the mixture into the tin, tap the tin a few times to settle the mixture.
Chill in the fridge for an hour, and then serve in slices.