Enjoy this healthy breakfast recipe taken from RTE's Operation Transformation.
Cereal with Milk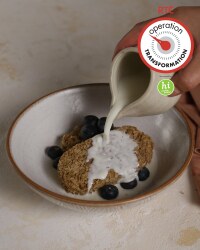 Recipe Information
Ingredients
3 x Wholemeal Biscuits (such as Harvest Morn Wheat Bisks)
225ml Low Fat Milk (1.5% fat)
15 x Blueberries (optional)
Method
Put the wholemeal biscuits in a bowl and pour over the milk.
The milk can also be heated in the microwave or in a saucepan on the hob if you would prefer it warm.
Scatter over the blueberries (optional) to serve.