Start your day off well with this healthy smoothie, made with avocado, banana, kiwi and spinach.
Avocado Breakfast Smoothie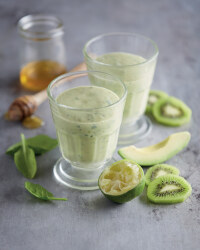 Recipe Information
Ingredients
1 large ripe Avocado
1 Kiwi Fruit
1 small Banana
20g fresh Spinach Leaves
300ml Acti Leaf Unsweetened Soya Milk
2 tsp Grandessa Squeezy Honey
1 Lime
Method
Juice the lime and put into a bowl.
Cut the avocado in half – remove the stone and scoop out the flesh.
Add the avocado flesh to the lime juice and toss to coat.
Peel and chop the banana and kiwi.
Put all the above into a liquidiser along with the honey, soya milk and spinach leaves.
Blend until smooth, then serve.