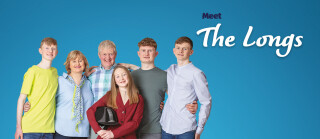 Meet the Longs
The Longs are a sporty family of 6 who are into everything from horse riding to GAA. They have 2 dogs who they absolutely adore and they would love to save enough to buy a new pony!
Our Story.
The Longs were really won over by the products in store at Aldi. They loved everything from the fresh Irish meat to the Super 6 fresh fruit and vegetables. Here's a few of their highlights…
Meet the other families...
Let us introduce you to our families. Read their stories and hear about all their favourite products, recipes and tasty surprises.