The perfect lasagne recipe for any vegatarian or vegtable lover.
Vegetarian Lasagne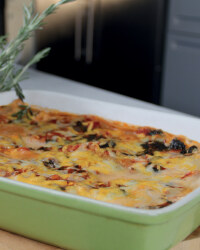 Recipe Information
Ingredients
Medium onion, diced
Large bag spinach, washed
2 x 400g cans chopped tomatoes
10-11 lasagne sheets
1 tbsp vegetable bouillon
2 garlic cloves, crushed
1 tbsp tomato purée
Pinch of paprika
1 teaspoon oregano
Black pepper
1 tbsp olive oil
100g grated low fat mozzarella cheese
Light spray oil
For the white sauce
20g butter
2 tbsp flour
800ml low fat milk
Method
Heat the oil in a large pan and fry onions for few minutes. Add chopped tomatoes, vegetable stock and half of the washed spinach.
Close lid and let the spinach cook into the sauce.
Stir the sauce and add the rest of spinach once the first lot has wilted down. Stir in tomato puree, garlic, paprika, black pepper and oregano. Let it simmer for three minutes, stirring occasionally.
Set aside until needed. To prepare the white sauce.
Melt the butter in a pan. Add the flour and milk, stirring all the time.
This sauce is meant to be very runny and only a minimum quantity of butter and flour is used to keep the calorie content down.
Use spray oil to coat oven dish. Place a layer of white sauce in the bottom of the dish and cover with a layer of lasagne sheets.
Pour more white sauce in the bottom so that the lasagne sheets are covered.
Add a layer of vegetable mixture and over that another layer of white sauce and on top of that another layer of lasagne sheets.
Carry on with white sauce and spinach mixture and lasagne sheets for another layer or two so that the last layer is spinach mixture. Sprinkle the mozzarella cheese over the top.
Cover with tinfoil and place in oven at 200°C for approximately 40 minutes until lasagne is al dente.
Serve.