Vegetable Lasagne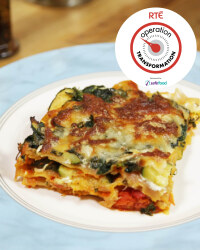 Recipe Information
Ingredients
400g cherry tomatoes
2 courgettes, sliced
250g ricotta cheese
1 large carrot, chopped
2 sticks of celery, chopped
100g baby spinach leaves
80g mozzarella, grated
30g parmesan, grated
160g wholewheat lasagne sheets
Food Staples:
3 teaspoon olive oil
1 clove garlic, crushed
Method
Heat the oven to 200C /180C fan / gas mark 6
Steam celery and carrots.
Once tender blend with a hand blender into puree and set aside
Place a pan on a medium heat and add 1 teaspoon of olive oil.
Add the crushed garlic and allow to cook for a few minutes being sure not to let it burn
Add the tomatoes to the pan and allow them to soften
Add the blended carrot and celery to the tomato sauce
Add 2 teaspoons of olive oil to another pan and add the sliced courgettes.
Cook until tender and slightly browned
Add the spinach to the pan and cook for a few minutes allowing to wilt In a lasagne dish , layer up the ingredients using the tomato sauce first, followed by a lasagne sheet
Spread the ricotta cheese on the lasagne sheets and top with the spinach and courgette slices
Keep layering until the final layer of courgette is on top
Top with mozarella and parmesan in oven and cook for 40-45 minutes Serve quarter of the lasagne for one portion