Quick and easy recipe with carrot, parsnip and pomegranate.
Roasted Carrot and Parsnip Batons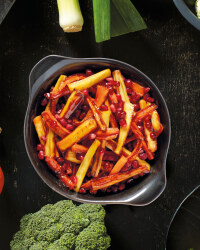 Recipe Information
Ingredients
400g large Carrots
400g Parsnips
3 tbsp Rapeseed Oil
3 tbsp Squeezy Honey
80g Pomegranate Seeds
Salt and Pepper
Method
Pre-heat the oven to 200°C/400°F/Gas Mark 6.
Peel the carrots and parsnips and cut into batons.
Boil in salted water for 2 minutes, then drain well.
Scatter into a large roasting tray.
Mix the oil and honey together.
Pour over the vegetables in the tray.
Finally, roast for 25/30 minutes – turning once during the cooking.
Season and serve sprinkled with the pomegranate seeds.