Energise you and all your friends with this fruity fizzy Mango Sorbet Bellini Float.
Mango Sorbet Bellini Floats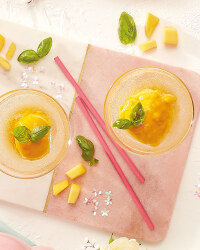 Recipe Information
Ingredients
2 x scoops Mango Sorbet
15ml Maple Syrup
Fresh Basil Leaves
Costellore Prosecco
2 x Martini Glasses
Method
Bruise a couple of basil leaves and put into the glasses.
Put a scoop of mango sorbet in each.
Top with the Prosecco.
Drizzle over the maple syrup and add a couple of small basil leaves to garnish.