This tangy and refreshing drink with a kick of turmeric is the ideal pick-me-up.
Mango and Kiwi Smoothie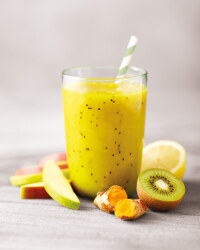 Recipe Information
Ingredients
250g Mango flesh
2 ripe Kiwi Fruit
½ flat tsp ground Turmeric
100ml Coconut Water
Juice of ½ Lemon
Method
Cut the kiwis in half and scoop out the flesh, discarding the skins.
Put all the ingredients into a blender and purée, before serving immediately in a glass.