Leftover Mediterranean Vegetable and Goats Cheese Wraps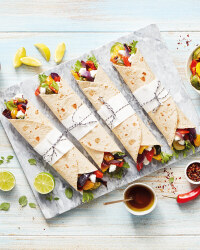 Recipe Information
Ingredients
180g Goats Cheese
250g Left Over Roasted Vegetables
½ Bag Mixed Salad Leaves
4 Wraps
1 tbsp. Olive Oil
2 tsps. Balsamic Vinegar
1 tsp. Honey
½ tsp. English Mustard
Pinch Salt and Pepper
Method
Begin by making the dressing by mixing together the oil, balsamic vinegar, honey, mustard and seasoning until well combined.
Cut the goats cheese into chunks and slice the left over vegetables into smaller pieces and mix together.
Drizzle the dressing over the salad leaves.
Divide the fillings between 4 wraps.
Wrap and serve.