This jaw-droppingly fruity smoothie recipe is a deliciously energising start to the day.
Kiwi, Orange & Pear Smoothie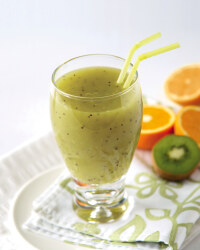 Recipe Information
Ingredients
1 pack 8 Kiwi Fruit
8 x Oranges
2 x Pears
2 tsp Caster Sugar
Method
Peel the kiwi fruit and cut them into quarters lengthways, cutting out the core.
Discard the core, then take the pears, peel, remove the core and chop the remaining pear into pieces.
Cut the oranges in half and juice.
Put the kiwi fruit, pear, sugar and the juice from the oranges in a processor or liquidiser and blend.
Serve the smoothie cold.