Try this Irish stew to warm up on a cold evening. Hearty and filling.
Irish Stew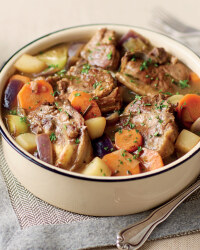 Recipe Information
Ingredients
250g Diced Lamb
500ml Boiling Water
1 Beef Stock Cube
2 Carrots, peeled and diced
1 Onion, peeled and finely chopped
2 Celery Sticks, chopped
200g Turnip (½ Turnip), peeled and diced
1 tbsp Plain Flour
1 tbsp Tomato Purée
250g White Potatoes, peeled and chopped in half
1 ½ tsp Dried Thyme
1 tbsp Rapeseed Oil
¼ tsp Salt
Method
Mix flour, thyme, salt and lamb together in a bowl, coating the lamb in the flour mixture.
Heat a casserole dish to medium to high heat.
Add ½ tbsp of oil to the dish and add lamb, turning until browned.
Remove lamb from the pan and set aside.
Add remaining oil to the pan and heat, then, add the vegetables (except potatoes) and heat until softened.
Return the browned meat to the pan.
Add the boiling water mixed with the stock cube and tomato purée.
Bring the casserole dish to the boil, then reduce heat to a gentle simmer.
Add the potatoes
Put the lid on the casserole dish and cook on low heat for 90 minutes or until lamb is tender.