Chicken and mango chunks in a fresh homemade dressing - ideal for lunch or a light dinner.
Chicken Mango Salad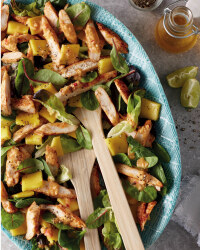 Recipe Information
Ingredients
90g Bag Baby Leaf Salad
120g Bag Mixed Sald Leaves
2 170g packs Piri Piri Chicken Mini Fillets
300g pack Mango Chunks
1 small fresh Chilli, approx 7g
2 cloves Garlic
10ml Light Soy Sauce
40ml Specially Selected Olive Oil
45g Dry Roasted Peanuts
1 flat tspPaprika
2 Limes
Black Pepper
Method
For the dressing:
Juice the limes.
Finely chop the chilli with the seeds.
Peel and chop the garlic.
Put the above into a food processor along with the peanuts, olive oil, soy sauce and paprika.
Process until you have an almost-smooth dressing then season with some black pepper.
For the salad:
Finely slice the chicken and mango chunks.
In a large bowl, toss the salad leaves with the chicken, mango and dressing.
Divide between 4 plates and serve.