Indulgent American cake with thick frosting and caramel sauce, decorated with biscuits.
Caramelised Biscuit Cake with Caramel Drizzle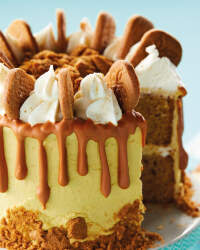 Recipe Information
Ingredients
For the cake:
227g self-raising flour
227g brown sugar
227g unsalted butter
4 eggs
Dash of maple syrup
For the frosting:
460g unsalted butter
1kg icing sugar
2tsp milk
3tbsp caramel sauce (from the recipe below)
For the caramel sauce:
100g plain sugar
45g unsalted butter
35ml double cream
Pinch of salt
1 packet of Caramalised biscuits, to decorate
Method
Preheat the oven to 160C/140C (fan)/gas mark three. Line a 15cm round cake tin with baking paper.
Make the cake by creaming together the brown sugar and butter until smooth.
Mix in the self-raising flour, eggs, and maple syrup to form a smooth batter.
Transfer the mixture to the prepared cake tin and bake in the oven for 50-60 minutes, or until a skewer inserted into the centre of the cake comes out clean.
Leave the cake to cool completely.
Make the sauce by gently heating the sugar in a saucepan until it starts to melt into a syrup and starts to turn amber in colour.
Remove the pan from the heat and whisk in the butter, double cream, and salt. Leave to cool and thicken for 20-30 minutes.
Slice the cake in half.
Whisk together the unsalted butter, icing sugar, and milk to create a thick frosting.
Set 5 tablespoons of frosting to one side before adding 3 tablespoons of the caramel sauce to the remainder.
Use a quarter of the caramel frosting to fill the cake and the remainder to coat the top and sides.
Transfer the plain buttercream to a piping bag and pipe rosettes of frosting on top of the cake.
Crush 8 Caramelised biscuits and press around the base of the cake.
Decorate the top of the cake with some snapped caramelised biscuits and any remaining crumbs.
Pour the caramel sauce into a piping bag and pipe a caramel drop around the top edge, allowing the sauce to naturally run down the sides.
Store in an airtight container.