This recipe is definitely worth the wait. A true classic. Serve with your choice of cream, ice cream or custard
Apple Tart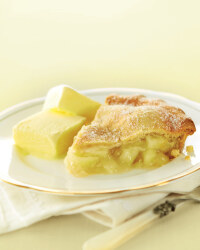 Recipe Information
Ingredients
For the Pastry
225g Plain Flour 45g
Caster Sugar 100g
100g butter, cold and cut into 1cm pieces
1 Egg Yolk
3-4 tbsp Water
Pinch of Salt
Zest of ½ Lemon
For the Filling
6 Cooking Apples, peeled, cored and cut into thin slices
Zest of ½ Lemon
3 tbsp Caster Sugar
For the Glaze Topping
1 Egg Yolk
Method
For the pastry
Sieve the flour into a large bowl.
Add sugar, salt and lemon zest and mix well with your fingertips.
Work the butter into the flour mix to form a crumb-like texture.
Add the egg yolk and, bit-by-bit add the water, mixing all the time until the mixture comes together in a ball.
Wrap in cling film and leave in the fridge for 30 minutes to chill before rolling.
Cut the pastry in two, lightly flour the surface and roll out pastry not thicker than ¼cm to fit a 23cm/9" pie tin/plate.
Reserve the other sheet for the top of the pie.
For the filling
Put apples and lemon zest into a large bowl with sugar and toss.
Spread the sliced apple mixture evenly around the base.
Top with the remaining sheet of pastry, tuck it in at the sides and trim with a sharp knife.
To glaze, mix the egg yolk and water together and, using a pastry brush, spread the mixture evenly on top of the pastry.
Bake in a pre-heated oven at 190°C/375°F/Gas Mark 5 for 35-40 minutes until cooked and golden brown on top.