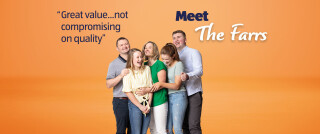 Meet the Farrs
Cathy, who works in a pharmacy, and Kieran, an accountant, live with their children and their dog Alf. They enjoy skiing and GAA football as well as swimming and yoga in their spare time.
Our story...
The Farrs love the cheese and the quality of the meat at Aldi. They were impressed by the range available and were shocked by the value of the products. Here's a few of their highlights…
Meet the other families…
Let us introduce you to our families. Read their stories and hear about all their favourite products, recipes and tasty surprises.