Summer fun on a shoestring
Summer's here and we're all looking forward to long days of blissful relaxation, basking in the glorious sunshine…but then we remember that we have kids…and we live in Ireland. Keeping the kids entertained over the summer holidays can be challenging (and expensive), so here are a few ideas to make it easier.
Make a summer activities jar
Planning is key to a great summer so have plenty of activities planned in advance. Get the whole family involved in making a list of things you would like to do. Put all the ideas into jam jars (one for rainy days and one for sunny days) and pull one out each day to add an element of surprise. (Obviously, if you don't feel like a trip to the zoo that day, remove that option first!).
Sunny day activities
Grow your own food
Kids love the excitement of planting a seed and watching it grow and it's a great way to encourage them to eat vegetables. You don't need a big garden – pots can be just as much fun. Grow herbs on your kitchen window sill or plant a tomato or strawberry plant in the garden.
Embrace nature
A nature walk is a great way to get some exercise and keep them entertained at the same time. Make a list of plants and flowers to collect and birds and trees to spot. Give them pens to tick off everything they've spotted and bring baskets to collect things in. You could even press the flowers when you get home.
Make an obstacle course
Let the kids design and build their own obstacle course in the garden and invite friends to race them. All you need is a few cones to kick a ball around, some boxes to jump over and a stopwatch to time them.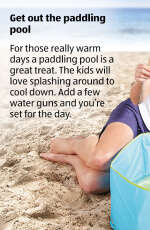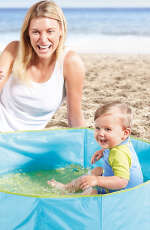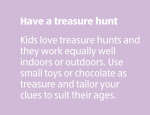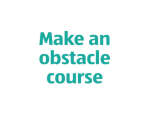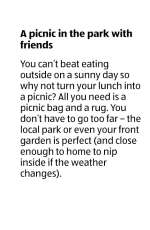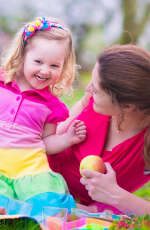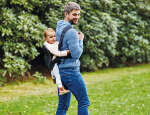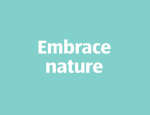 Rainy day activities
Turn your living room into a cinema
A trip to the cinema can be expensive so why not bring the cinema to you? Make a list of some films that you can easily watch at home (whether they be on TV, DVD or via streaming) and let the kids choose. Darken the living room and make your own popcorn with a few sweets thrown in and presto – home cinema.
Arts and crafts
Have plenty of arts and crafts supplies on hand for the holidays and make a list of some easy craft projects that you can make together. It doesn't just have to be colouring or painting; Lego projects or building a marble run can be great fun too.
Jumping in muddy puddles
Blame Peppa for this one! Some days you just have to get out, even if it's raining. Kids love jumping in muddy puddles, so why not embrace it? Get them some raingear and wellies, let them jump in muddy puddles to their heart's content and just dump everything in the washing machine when you get home. It's a great way to burn off some energy.