Going Back To Work
You probably felt like this day would never come and you're terrified and excited in equal measure. Going back to work after having a baby can be a bit daunting but there are some things you can do to prepare yourself.
Take extra time if you need it
You are entitled to 26 weeks' maternity leave. Don't forget that you are also entitled to days off in lieu for any public holidays or annual leave that happen during your maternity leave so make sure you've taken all of those too. You can also avail of 16 additional weeks of unpaid leave so take some extra time if you need it (and can afford it).
Consider your breastfeeding options
If you are still breastfeeding you will need to stock up on milk for when you're away. You are legally entitled to breastfeed or express milk in work, where facilities are provided or take one paid hour off a day to feed your baby and this applies for up to 26 weeks after your baby is born.
Take a week or two to get baby settled in to childcare
Research your childcare options well ahead of time and start your baby before you return to work so they're well settled in. This will also give you a little headspace before you start back.
Try not to feel guilty
"Mommy guilt" is something every mum feels, no matter what their circumstances, so while you may feel a bit guilty about leaving your little one to go out to work, chances are you'd probably still find something else to feel guilty about if you were staying at home. A change of scene will be good for both of you.
Ease yourself back in gently
Consider starting mid-week if you can to ease yourself back in.
Try to get the balance right
If working late at the drop of a hat was part of your pre-baby work culture, you may need to make some changes, at least to begin with. Bosses and co-workers will just have to understand that your life has changed dramatically so try not to feel under too much pressure to "prove yourself".
Consider more flexible working hours
You may be lucky enough to work in a "mum-friendly" environment and if that's the case you might be able to negotiate some changes to your working hours – coming in earlier and leaving earlier might suit you better or a 4 day week might help to ease the pressure.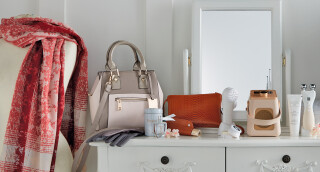 Get organised
Pick out your outfit the night before so you're not rushing in the morning and lay out baby's outfits for the week on a Sunday so you just have to pop them in their bag each evening. You may still be suffering from "baby brain" so make lists and tick everything off as it gets done.
Batch cook some meals for the first few weeks back
You'll have enough on your plate juggling work and childcare without having to get home and start cooking too. It can really help to have a stash of home-cooked meals in the freezer.
Delegate
Assign chores to other family members – now that you won't be at home as much as you were, everyone else will just have to pick up the slack. Consider getting a cleaner, if you can afford it, to take the pressure off or make a list of groceries that you'd need and ask a family member/friend to nip to the shop for you.
Take turns
Ask your partner to take turns with the drop-offs and pick-ups so it's not always you dashing out of work the second it finishes.
Be confident in your abilities
Mums are expert multi-taskers (they have to be) so you might be surprised at how well you cope. After all, look at what you've achieved in the past year!
Focus on the positives
You'll finally get to enjoy some adult company again. Your brain will be engaged by something more stimulating than Peppa Pig. You'll be able to finish a cup of tea before it goes cold. Best of all, you'll have 1 glorious hour to yourself each day so make sure you get out of the office – meet a friend for lunch, take a stroll in the park, go shopping and enjoy some well-deserved "me time".