Wonderful weaning recipes
Weaning is an exciting time but, with so much food to choose from, you can find yourself wondering what on earth to feed them. We've put together some of our favourite weaning recipes to help you get off to a flying start. They'll be tucking into a Sunday roast with the rest of the family in no time!
1. Start with single vegetables
Try puréed carrots, broccoli, cauliflower or peas. And feel free to let your baby play with their food and spoon – weaning should be fun. Don't forget to give them lots of smiles too!
Carrot Purée
Prep 1 min | Cook 10 mins
• 1 Medium Carrot
• 30-35ml baby's usual Milk or cooled Boiled Water
Method:
Peel and finely chop the carrot then steam or boil until very soft. Cool slightly and add the milk or water, then liquidise until smooth. Add a little more liquid if necessary until it is the right consistency. Cool slightly before feeding.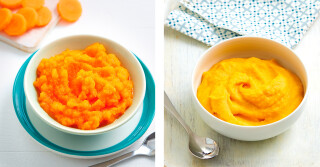 2. Explore new veg and fruit
Once your baby's comfortable with single vegetables, introduce combinations with lumpier textures in thicker purées, mashed food or soft, well-cooked finger food. Try small amounts and offer more if it gets gobbled up.
Butternut Squash and Banana Purée
Prep 5 mins | Cook 10 mins
• 150g Butternut Squash flesh
• 1 Mini Banana
Method:
Chop the squash into small chunks and boil for 10 minutes until tender; drain and mash. Peel the banana and chop into a bowl then mash. Add the squash and banana together, then mix well. Either leave mashed or blend to a purée.
3. Add meat, fish, proteins, dairy and carbs
Add iron to their diet through red meat and green veg. Introduce dairy products and provide protein through meat, fish, beans and eggs. Try starchy carbs like rice and potatoes too.
Sunday Chicken Dinner
Prep 7 mins | Cook 20 mins
• 60g peeled Carrot
• 60g peeled Parsnip
• 60g peeled Swede
• 120g peeled Potatoes
• 40g frozen Peas
• 65g cooked Chicken Breast Slices
Method:
Chop all veg into small chunks and boil for 15 minutes. Add peas, bring back to boil and cook for 5 more minutes. Drain veg but keep some water. Finely chop chicken and add to veg. Serve if your baby can eat solids. If not, purée with some of the liquid or baby's usual milk.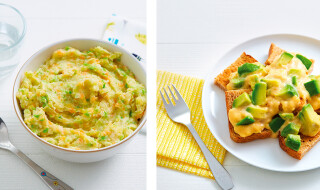 4. Vary their breakfast
Breakfasts are a great way to establish regular mealtimes. Keep things interesting and varied with baby cereals, porridge, toast bites, fruit or slices of omelette.
Scrambled Egg with Avocado
Prep 5 mins | Cook 5 mins
• 2 Medium Eggs
• ½ ripe Avocado
• 15ml baby's usual Milk
• 12g Butter
• 1 Slice Wholemeal Bread
Method:
Crack the eggs into a bowl and whisk with milk. Chop avocado flesh into small chunks. Melt the butter in a non-stick saucepan, add egg mixture and cook on a low light, whisking for 2 minutes. Toast the bread and cut into small squares. Fold the avocado through the eggs, top the toast with the mixture and serve.
5. Establish a '3 meals a day' routine
Now they're ready to start enjoying 3 regular meals a day. Try to eat together whenever you can, so your baby learns that mealtimes are sociable and fun.
Courgette Face Dinner
Prep 20 mins | Cook 20 mins
• 250g pack Spiralised Courgettes
• 250g pack Spiralised Carrots
• 8 Button Mushrooms
• Slice of Red Pepper
• 1 Medium Egg
•150ml Crème Fraîche
• 20g Butter
• 10ml Lemon Juice
Method:
Sauté chopped mushrooms in butter until just browning. Add crème fraîche and lemon juice and heat through. Make 2 faces using finely chopped, spiralised courgettes for the face, and chopped, spiralised carrots for the hair. Add mushroom bits for a nose, boiled egg quarters for eyes and red pepper for the mouth. Serve with mushroom sauce.