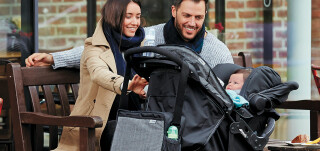 Everything you need for an outing with baby
(minus the kitchen sink)
With a small baby in tow, simply leaving the house can seem a bit like planning a military operation but a little forward planning can help.
Packing light is key
At first you may end up bringing everything but the kitchen sink but you'll soon learn what's essential and what's not.
Bring baby-sized baby products
Find the tiniest containers of baby powder, nappy cream and wipes that you can and save them for short trips.
Sandwich bags are your friend
As a mum, you get used to doing everything one handed. Instead of fumbling around in your bag to find what you're looking for, why not pack your essentials in a few sandwich bags – one for nappy changing, one for a change of outfit, one for snacks, one for toys. That way, you can grab what you need in a hurry.
Carry a fold-up changing mat
Changing tables can be grubby so bringing a mat means you'll always have a clean surface to change your baby on.
Bring plenty of snacks
To say that babies don't like to wait for their food is a bit of an understatement so make sure you've got plenty to hand. If you're breastfeeding, you'll automatically be at an advantage here. If you're bottle feeding, make sure you've got one ready to go.
At the weaning stage it's always a good idea to carry some snacks for your little one. Most cafes won't mind and it doesn't make sense to order food for a baby, who probably won't be able to eat much of it yet. Bananas, avocados and yogurts are a good bet.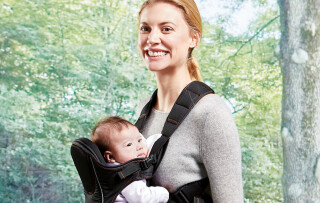 Pick off-peak times
There are advantages to being up at the crack of dawn (yes, really) – so why not go to the supermarket when it's less crowded or enjoy an early lunch with your choice of seats.
Work around nap times
We all know that a tired baby is a cranky baby so plan your trip around your baby's routine. If you're only going a short distance, wait until after their nap when they're in better humour. If you're going further, maybe they could nap on the way. You'll soon figure out what works best.
Take a moment before you leave
Ask yourself a few important questions like "have I closed the front door?" and "do I have baby?" (Nope, we're not joking!). If so, then you're good to go.