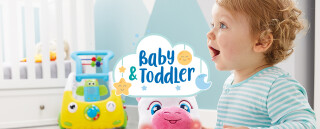 Aldi's "Mamia&Me" Podcast
Award winning actress, best-selling author and now podcast host! Amy Huberman is the host of Aldi's new podcast series "Mamia&Me".
Amy Huberman
'I'm really looking forward to chatting to some great people about their experiences and discussing some interesting topics! We want this podcast to be a safe space and "if you don't laugh you'll cry" conversation.' Listen on all major podcast platforms!
Mamia welcomes you to parenthood
You're not alone! Here at Aldi, we know becoming a parent can be an amazing time. It can also turn your world upside down. So, whether you need a go-to Hospital Bag Checklist, stress-free weaning tips, or amazing nappies, we're here to help with a bundle of fantastic parenthood tips and inspiration.
Awards all round
As well as winning many awards on our Mamia products, we were also the most awarded Supermarket at the National Parenting Product Awards 2020!
Why parents love Mamia
There are lots of reasons why parents have come to trust Mamia. Our nappies and baby wipes have been winning awards for quality and value for years. And we cater for every stage, from new born to toddler. Of course, you don't have to take our word for it. Just try for yourself!
Time to get #NappyHappy
Nothing is going to make your baby happier than being comfy, dry and fresh. And the good news is, Mamia Ultra-Dry Air System TM nappies have 2x faster absorbency, up to 12 hours' day and night protection.
How to make mealtimes amazing
Whenever you are ready to start weaning, you'll need plenty of patience and understanding. To help we've put together lots of top tips and wonderful recipes, including inspiration on how to introduce textures and tastes with ease. Good luck!
Be good to yourself
Attempting to look after a little one is easier when you make sure all of the grown-ups are being good to themselves as well. Here's a few good places to start when it comes to self-care.
Make sure you eat well

It's so important to nourish your body (and mind) as a new parent, especially if you're breast feeding. So, stock the fridge with plenty of nutritious foods.
Take a little me time

It's ok to stop and take a few deep breaths. It can be a great way to cope when you have a little one. So, if you get the chance, create a little sanctuary at home to de-stress.
Pamper yourself at home

There is no denying that a little beauty therapy makes us all feel good. So why not do yourself a favour and enjoy a little pampering at home with a whole range of products from Aldi's skincare range.