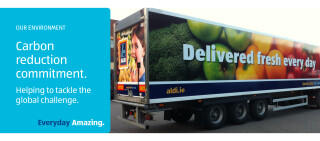 We've reduced our carbon footprint by over 30% since 2012
Carbon emissions are often seen as an inevitable part of business, but we're helping tackle this global challenge head-on in a number of ways, including becoming more energy efficient, switching to green electricity and using more environmentally friendly refrigeration.
We monitor our refrigeration units closely to ensure they operate efficiently and greenhouse gas emissions remain as low as possible. We have converted all of our chiller cabinets and cold rooms running on a refrigerant with a Global Warming Potential (GWP) of 3780 to one with a GWP of 1824. In 2015, we began a three year programme to replace our chest freezers running on a refrigerant with a GWP of 3780 for models running on a GWP of three. We have also increased the amount of stores using heat we recover from our fridges, chillers and freezers to 36% in the UK, and 39% in Ireland, thus reducing energy consumption and carbon emissions.
Transport
Reducing our fuel consumption is a major factor in how we minimise our carbon footprint. We're doing this in three key ways:
• Using lighter vehicles with more fuel-efficient tyres and improved aerodynamics
• Investing in the latest fuel management systems
• Using tracking software to create the most efficient route plans
Energy Management System
Every Aldi store in the UK and Ireland now has an Energy Management System, using energy-saving technology and employee awareness to help achieve the most efficient energy consumption possible. Each store also has an Energy Policy Pack designed to guide employees to think more responsibly about energy consumption.
Energy efficiency
Our store energy efficiency programme has saved 6498 tonnes of carbon to date across the UK and Ireland. That's the equivalent of 520 double decker buses! We've done this by continually monitoring the energy performance of stores and distribution centres, and identifying where we can make them work more efficiently. We also monitor lighting, refrigeration, heating, ventilation and air conditioning – even our small power appliances get monitored!
Lighting
Using LED lighting saves each store about €5000 per year in electricity and almost 5 tonnes of carbon. All new stores also have more efficient LED lighting throughout the sales area, including in chillers and chest freezers.