A tasty sweet BBQ dessert for those cosy summer evenings.
Wood Cooked Banana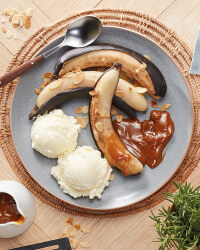 Recipe Information
Ingredients
4 Bananas whole
300ml Double Cream
For the Salted Caramel
250g Caster Sugar
125g Soured Cream
30g Unsalted Butter
1 tsp Vanilla Extract
½ tsp Sea Salt Flakes
2 tbsp Roasted Almonds
Method
Make sure the embers of your BBQ are nice and white before cooking on them.
Wrap your bananas in foil and place them directly onto the embers, leave them to cook whilst turning frequently to ensure it cooks evenly all sides.
It will take about 30 minutes. For the last 5 minutes remove the foil.
To make the salted caramel, tip the caster sugar into a medium-sized, heavy bottomed saucepan and add 2 tablespoons of water.
Set the pan over a low heat to dissolve the sugar. Do not stir, but gently swirl the pan from time to time.
Brush the sides of the pan with water to melt any sugar crystals that may have formed and stuck to inside of the pan.
Once all of the sugar has dissolved, increase the heat to medium and bring the syrup to the boil.
Continue to cook until the syrup becomes a deep amber colour, swirling the pan to ensure that the caramel cooks evenly. Leave to cool.
Whip up your double cream until a soft peak. Fold through half your cooled caramel and store the rest for later.
Place your banana directly on to the plate removing the top layer of the skin to expose the flesh.
Spoon the caramel cream next to it and place your roasted nuts on top and enjoy.