A nice light addition to a summer BBQ.
Vegetable Skewers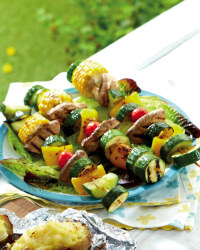 Recipe Information
Ingredients
1 Courgette
1 Pepper
4 Mushrooms
4 Cherry Tomatoes
1 Sweetcorn
4 Wooden Skewers
Olive Oil
Salt & Pepper
1 Little Gem Lettuce
Balsamic Vinegar
Method
Chop the mushrooms in half, then the courgette and sweetcorn into chunks of a similar size.
Cut the pepper into 8 pieces.
Thread all these and the tomatoes onto the skewers.
Brush with olive oil and season with salt and pepper.
Grill on the BBQ for 10-15 minutes, turning frequently until golden and tender.
Serve on a bed of lettuce leaves, drizzled with balsamic vinegar.