Homemade sweet potato, chickpea, garlic and red onion burgers. Perfect for vegans.
Vegan Sweet Potato Burgers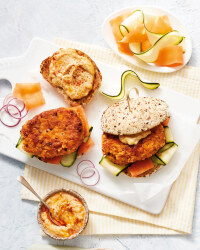 Recipe Information
Ingredients
500g Sweet Potatoes
130g Curried Chickpeas, drained
1 x Red Onion
2 x Cloves Garlic
1 x heaped tsp Ground Cumin
1 x heaped tsp Smoked Paprika
1 x flat tsp Dried Oregano
100g Sliced Wholemeal Bread
25g Tomato Purée Sea Salt and Black Pepper
1 x Pack of 4 Multiseed Baps
1 x Courgette
1 x Carrot
40ml Rapeseed Oil
Method
1. Peel the potatoes, cut into medium sized chunks and boil in some slightly salted water until just tender. Then drain well, put into a bowl and mash.
2. Finely chop the onion and peel the garlic.
3. Tear the bread into pieces and put into a food processor and blend in bursts to form breadcrumbs.
4. Add in the chickpeas, chopped onion, garlic, paprika, cumin, oregano, tomato purée and black pepper to the food processor with the breadcrumbs and whizz until finely chopped.
5. Add this mix to the sweet potato and stir well.
6. Remove from the bowl and divide the mixture into 4. Then shape the mixture into oval patties and put place in the fridge for 30 minutes to set.
7. Use a peeler to make ribbons with the carrot and the courgette.
8. Fry the burgers in the oil for 7 minutes on each side. Meanwhile, cut the rolls in half and toast or griddle the cut sides.
9. Serve on the toasted baps with the ribbons of vegetables.