Classic pasta dish with homemade pesto and cooked vegetables.
Vegan Pesto Pasta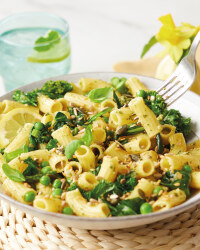 Recipe Information
Ingredients
1 x 500g pack Rigatoni
50g Pine Nuts
20g Sunflower Seeds
2 x Cloves Garlic
1 x pot Fresh Basil
130ml Olive Oil
1 Lemon, juiced
1 x Onion
100g Frozen Peas
100g Kale
100g Baby Spinach Leaves
100g Asparagus Tips
Sea Salt and Black Pepper
80g assorted Seeds
Method
To make the pesto, take all the leaves and stems off the basil (should yield approx. 25g) and roughly chop. Peel the garlic and roughly chop.
Put the basil leaves, garlic, pine nuts, sunflower seeds, 100ml olive oil and lemon juice into a food processor and blend.
Peel and finely chop the onion – sauté in the remaining oil in a large frying pan for a few minutes on a low heat.
Chop the asparagus into small pieces and add to the pan, along with the kale. Cook gently for 5/8 minutes until the kale starts to wilt, add the frozen peas and the spinach, season with some salt and black pepper, then cook for another 6/8 minutes.
Cook the pasta in boiling water as per directions on the pack for about 12 minutes. Drain the pasta well. Then put the pasta into a large, warmed bowl, add the pesto and the cooked vegetables and mix well.
Serve alongside seeds to sprinkle.