Valentine Pizza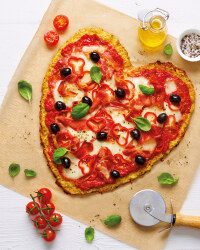 Recipe Information
Ingredients
200g Cauliflower Rice
180g drained Chickpeas
40g Reduced Fat Grated Cheddar Cheese
1 medium Egg
2 tsp Chia Seeds
400g tin Chopped Tomatoes
½ Red Pointed Pepper
210g pouch Lighter Mozzarella Cheese
40g Serrano Ham
10g Black Olives
Sea Salt and Black Pepper
A few fresh Basil Leaves to decorate
Method
Pre-heat the oven to 200°C/400°F/Gas Mark 6.
Put the cauliflower rice in a pan and pour over enough boiling water just to cover. Season with salt and bring to the boil. Drain well.
Put the chickpeas, chia seeds and the cauliflower rice in a food processor and blend well.
Put this mixture back into a pan and dry out over a low heat.
Put the mixture into a bowl, add the cheddar cheese and the egg and mix well.
On a large greased baking sheet, make the cauliflower mix into the shape of a heart. Bake in the oven for about 15 minutes until slightly browned.
Meanwhile, make the sauce. Drain the tinned tomatoes and liquidise along with the dried basil. Drain the mozzarella cheese and slice. Slice the red pepper, discarding any seeds.
Remove the pizza from the oven. Gently spread over the tomato sauce. Top with the sliced mozzarella cheese, red pepper, Serrano ham and the black olives.
Bake in the oven for a further 15 minutes. Serve topped with the basil leaves.