Edible turkey zombie faces made with tasty turkey mince, pancetta and spices.
Turkey Zombie Faces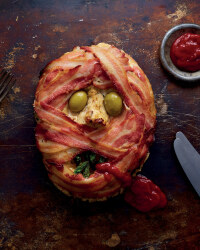 Recipe Information
Ingredients
1 x 450g pack Turkey Mince
1 large mild Onion
130g Chestnut Mushrooms
2 cloves Garlic
1 x 100g pack Pancetta
Sea Salt and Black Pepper
20ml Olive Oil
To decorate: Fresh Asparagus Tips, Green Olives or Pickled Onions Bramwells and Tomato Ketchup
Method
Pre-heat the oven to 200°C/400°F/Gas Mark 6.
Peel, halve and finely chop the onion.
Wipe and finely chop the mushrooms.
Peel and mince the garlic.
In a large frying pan, heat the oil and sauté the onions for 5 minutes on a low light until soft but not browned.
Add the garlic and mushrooms and cook for another 5 minutes. Transfer to a mixing bowl.
Add the turkey mince, season with a little salt and some pepper and mix well.
Line a baking tray with some tin foil. Put the mince mixture on the tray and mold into an oval shape.
Make 2 holes for the eyes. Push up some of the mince to make a nose and make a large hole for the mouth.
Put some pickled onions or olives in the eye sockets, then lay the pancetta over the face like bandages.
Use some wooden cocktail sticks to secure them. Bake in the oven for about 20/25 minutes until cooked.
Drain off any excess moisture and remove the cocktail sticks.
Use the asparagus tips to make some teeth, then drizzle with some blood tomato ketchup and serve.