Fill your boots with this scrumptious dish. Baked to perfection.
Turkey & Vegetable Pasta Bake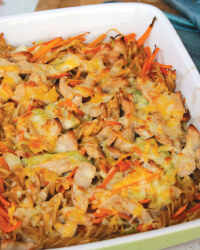 Recipe Information
Ingredients
400g turkey breast, in strips
400g carrots, thinly sliced
400g leeks washed and thinly sliced
300ml low fat milk
200g wholewheat fusilli
50g grated low fat mozzarella cheese
1 chicken stock cube
2 tbsp teriyaki sauce
3 tbsp white flour
20g butter
Method
Bring a litre of water to the boil in a large saucepan. Add the stock cube. Add the pasta, carrots and leeks to the pot.
Reduce heat and simmer for 8-10 minutes. Spray some oil into a non-stick pan over a medium heat.
Add the turkey and fry for five minutes.
Add teriyaki sauce and fry until the turkey is cooked through.
Set aside until needed.
To make the white sauce, melt the butter on a low heat. Sprinkle flour into the butter, stirring regularly and add the milk gradually.
Continue stirring regularly to make a smooth sauce. Spray some oil into an ovenproof dish.
Drain the pasta and vegetables and place in the dish.
Mix the cooked turkey with the drained vegetables and pasta.
Pour the white sauce over vegetables, pasta and turkey and sprinkle with mozzarella.
Place dish in oven at 200°C for 10 minutes.
Serve.