Tender turkey in a creamy leek stock, wrapped in a flaky pastry filling.
Turkey & Leek Pie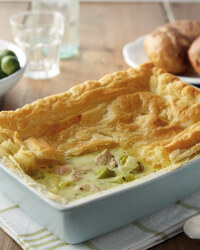 Recipe Information
Ingredients
1 465g Pack Ready To Cook Turkey Breast
300g Leeks
1 Chicken Stock Cube
250ml boiling water
1 teaspoon English Mustard
30g Salted Butter
30g Plain Flour
3 teaspoons Dried Parsley
1 teaspoon White Pepper
100ml Double Cream
1 x 375g sheet Ready Rolled Puff Pastry
1 500g pack Sprouts
1 x 4-pack Frozen Jacket Potatoes
Sea Salt
A little milk
Method
Preheat the oven to 200°C/400°F/Gas Mark 6.
Put the jacket potatoes on a baking sheet and put in the oven for 40 minutes.
Meanwhile cut the turkey into bite size pieces and put into a medium size saucepan.
Cut the leeks into slices and wash well, then put in with the turkey.
Crumble the stock cube in the boiling water, add the pepper and stir to dissolve the stock cube, pour over the turkey and bring to the boil, simmer for 5 minutes.
Melt the butter in a small saucepan, add the flour and cook for a minute, stirring.
Drain the liquid from the turkey, add this to the flour and butter and stirring bring to the boil, add the double cream, mustard and the parsley.
Put the turkey and leeks in the ovenproof dish and pour over the sauce.
Unroll the pastry and put on top of the filling, trim the pastry to fit.
With a pastry brush, brush the top of the pastry with a little milk, make a few holes in the top of the pastry to allow the steam to escape and bake in the oven for 25 minutes – till the pastry is golden.
While the pie is cooking, trim the sprouts and cook in some salted boiling water for 5 minutes – drain and serve with the pie and jacket potato.