Enjoy this healthy lunch recipe taken from RTE's Operation Transformation.
Tuna Pitta Melt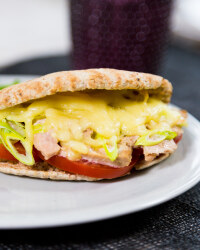 Recipe Information
Ingredients
1 round Wholemeal Pitta Bread
80g tin of Tuna Chunks in Spring Water
1 tbsp Mayonnaise
1 Scallion
1 ripe Tomato
25g Cheddar Cheese
Sea Salt
Black Pepper
Method
Toast the pitta bread in the toaster for 1 minute until puffed up, then leave until cool enough to handle and split one side open using a sharp knife or scissors.
Meanwhile, open the can of tuna and drain off the liquid and discard. Put the tuna in a bowl and mix in the mayonnaise. Season lightly with a little salt, if using and pepper to taste.
Trim and thinly slice the scallion. Cut the tomato into slices and arrange in the split open pitta then fill with the tuna mixture and the scallion. Using a box grater, grate the cheese and then sprinkle on top.
Heat a frying pan over a medium heat and add the filled pitta bread to it. Cook for 1 minute on each side or until the cheese has melted.
Cut the tuna pitta melt in half and either arrange on a plate with the spinach leaves to serve, or wrap in parchment paper and tin foil and pack in a suitable container for a lunchbox with the spinach in a small separate container alongside.