This wrap is full of flavour and nutrition. Just the thing for tiny tums!
Tuna and Houmous Wraps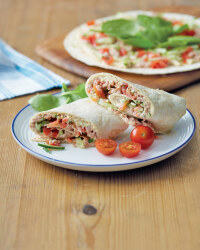 Recipe Information
Ingredients
4 Tortillas
200g Reduced Fat Houmous
185g tin Tuna Flakes in Brine
¼ Cucumber
140g Cherry tomatoes
60g Baby Spinach
Method
Preheat the oven to 180°C/350°F/gas 4
Wrap the tortillas in some tin foil. Put in the oven to warm through for 5 mins. Meanwhile shred the cucumber. Drain the tuna. Chop the cherry tomatoes into small dice.
Take the warmed tortillas out of the oven and put them on a work surface. Divide the houmous between the four and spread over them. Divide the cucumber by four and sprinkle over them. Do the same with the tomatoes and tuna. Finely top with the spinach .
Roll each tortilla over one turn, then fold in the sides and roll up fully. Do the same with the others. Pop back in the oven uncovered for about 3 minutes and then serve.