Grilled pineapple with lime and cinnamon flavours
Tucanos Grilled Pineapple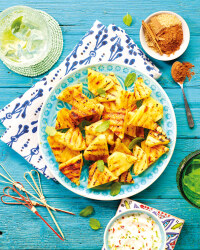 Recipe Information
Ingredients
1 x Fresh Pineapple
200g Soft Brown Sugar
2 x Flat tsp Ground Cinnamon
200ml Crème Fraîche
2 x Limes
½ tsp Chilli Flakes – Optional
6 x Wooden Kebab Sticks
Method
Top and tail the pineapple.
Cut in half lengthways.
Then cut each half into thirds.
Cut the skin off the wedges and slice off the woody top.
Put the sugar and the cinnamon in a bowl and mix well.
Put this into a large plastic bag.
Add the pineapple wedges and shake well to coat.
Grate and juice the limes and add to the crème fraiche – if you want a slightly spiced dip add the chilli flakes.
Preheat the grill to high.
Put a wooden cocktail stick into each wedge lengthways – leaving about 10cm sticking out – you can use this to turn the pineapple under the grill.
Grill the pineapple for about 3 to 5 minutes each side – till golden and slightly burnt.
Serve alongside the lime crème fraîche.