Deliciously decadent English classic. The perfect cake for parties.
Triple Victoria Sponge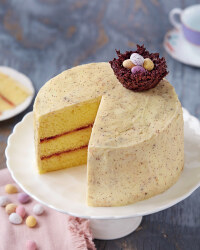 Recipe Information
Ingredients
6 Large Eggs
375g The Pantry Self Raising flour
375g The Pantry Caster Sugar
375g Perfect for Cakes Spread
250g Grandessa Strawberry Jam or Chocolate & Hazelnut Spread
375g Unsalted Butter, softened
2 tsp Vanilla Essence
900g The Pantry Icing Sugar
45ml Milk
75g Moser Roth 70% Dark Chocolate
2 Weetabix, broken up
Mini Chocolate Eggs
3 20cm shallow cake tins
1 paper cake case
Method
Pre-heat the oven to 180°C/350°F/Gas Mark 4.
Line the bottoms of the cake tins with some greaseproof paper and lightly grease the sides.
Put the eggs, flour, caster sugar, vanilla essence and the baking spread in a food processor and blend until well mixed – you might have to do this in 2 lots, depending on the size of your machine.
Divide this mixture between the 3 tins.
Bake in the oven for 20 minutes until risen and firm to the touch.
Allow to cool in the tins before turning out.
If the cakes are very domed, slice off the tops to level them.
Spread the jam or chocolate spread on the tops of 2 of the cakes, then stack them on top of each other.
Roughly grate 25g of the chocolate.
In a large bowl beat the icing sugar and butter together with a wooden spoon until smooth.
Add the milk and beat well, then stir in the grated chocolate.
Use this icing to cover the sides and the top of the cake, smooth with a knife or leave 'swirled'.
Break up the rest of the chocolate into a heatproof bowl and place over a pan of simmering water to melt the chocolate – don't let the bottom of the bowl touch the water.
When melted, remove from the heat and mix in the Weetabix.
Put the chocolate covered Weetabix pieces into a paper cake case, with your fingers gently press up the sides and above the case to form a 'nest' and then leave in the fridge to set.
Place the nest on the cake using a little of the chocolate to stick it in place and fill with the chocolate mini eggs.