Tasty chilli beef served on crispy salad with taco dressing and crunchy tortilla chips.
Tortilla Salad Bowl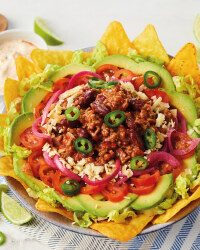 Recipe Information
Ingredients
For the Chilli Beef:
500g Minced Beef
1 x 400g tin Chopped Tomatoes
1 x tsp Dried Oregano
2 x Cloves Garlic
40ml Olive Oil
1 x Green Chilli, approx. 15g
1 x Red Onion
2 x tsp Paprika
100ml Water
1 x 400g tin Red Kidney Beans
Sea Salt and Black Pepper
For the Salad Bowls:
1 x Red Onion
50ml White Wine Vinegar
1 x Lemon, juiced
1 x 200g bag Tortilla Chips
2 x Avocados
1 x Romaine Lettuce
300g Cherry Tomatoes
100g Grated Cheddar Cheese
200ml Double Cream
1 x Lime, juiced
1 x heaped tsp Smoked Paprika
1 x heaped tsp Cajun Seasoning
Method
For the chilli beef, peel and chop the red onion. Peel and mince the garlic. Chop the chilli finely, along with the seeds.
In a large saucepan, sauté the onion and garlic in the oil for 5 minutes on a low heat. Add the beef and cook until browned. Add the oregano, chilli, paprika, tinned tomatoes and water – mix well and bring to the boil.
Season with some salt and pepper, cover and simmer for 40 minutes. Drain the kidney beans, add to the chilli and heat through.
Meanwhile, thinly slice the other red onion and soak in the white wine vinegar and lemon juice – leave to soak while the chilli is cooking.
Mix the cream, lime juice, paprika and Cajun seasoning together to make the dressing – if it's too thick, thin down with a little milk. Shred the lettuce. Chop the cherry tomatoes. Peel and slice the avocados. Drain the red onion.
To assemble, put a row of tortillas around the edge of the bowl, then some lettuce, avocado slices, tomatoes, marinated red onion, grated cheese and then in the middle, spoon in the chilli.
Serve alongside the taco dressing.