Simply delicious. You can see for yourself why this is a classic.
Tomato & Mozzarella Salad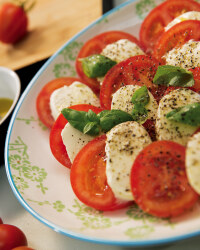 Recipe Information
Ingredients
800g Large Vine Tomatoes
2 x 280g packs Mozzarella Cheese, drained
1 small Red Onion, peeled
About 30 fresh Basil Leaves
40ml Olive Oil
15ml Balsamic Vinegar
Sea Salt and Black Pepper
For the Pesto:
110g Fresh Basil Leaves
3 cloves Garlic
75g Parmigiano Cheese
110ml Olive Oil
50g Pine Nuts
30g Fresh Parsley
Juice of ½ fresh Lime
Sea Salt and Black Pepper
Method
Slice the tomatoes and mozzarella cheese into 5cm slices. Alternate the tomato and cheese slices on a plate.
Finely chop the red onion. Chop the basil into thin slices. Sprinkle the chopped red onion and basil over the slices of tomato and mozzarella.
Put the oil into a small bowl, pour over the balsamic vinegar, season with sea salt and black pepper – mix well. Drizzle the dressing over the prepared sald and serve.
Top tip
Add homemade pesto to your salad: Homemade pesto tastes fresher than bought and with the addition of some fresh lime makes the taste of the basil more intense
For the Pesto:
Grate the Parmigiano. Peel and roughly chop the garlic.
Put the basil, garlic, grated cheese, olive oil, pine nuts and parsley into a food processor or blender – season with a little salt and black pepper. Blend to a smooth paste.
Put into a bowl and stir in the fresh lime juice.