Perfect for eating outdoors at picnics or sports events
The Italian Job Giant Ciabatta Sandwich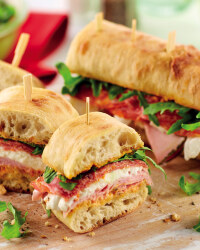 Recipe Information
Ingredients
1 x Whole long ciabatta
1 x Italian mozzarella ball, drained
1 tbsp x olive oil
1 pack x Italian Salami selection
4 slices x Basil ham
2 tbsp x Red pesto
2 tbsp x light mayo
2 handfuls x Fresh rocket leaves
Method
Pre-heat the oven to 180°C/350°F/Gas Mark 4.
Cut the ciabatta lengthways in half and drizzle the olive oil on the inside of both sides. Place on a baking tray cut side up and bake in the oven for 8-12 minutes until golden and starting to crisp.
Remove from the oven and allow to cool.
Mix the pesto with the mayonnaise and spread evenly over both halves of the bread.
Layer from the bottom with the basil ham, then the torn up mozzarella ball. Top the mozzarella with the Italian salamis and finish with the rocket leaves.
Add the top layer of bread and stud into 8 portions using cocktail sticks.
Slice when ready to serve for a picnic lunch or half-time match snack!