A classic mouthwatering burger cased in a delicious brioche bun. Perfect for a BBQ!
The Brioche Burger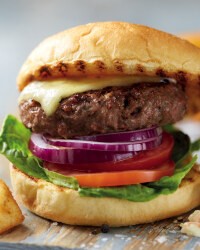 Recipe Information
Ingredients
4 Irish Angus Burgers
4 Brioche Burger Buns
4 slices Smokey Cheddar Slices
1 Little Gem Lettuce
1 large Red Onion
4 large Vine Tomatoes
300g Coleslaw
600g Wedges
Method
Pre-heat the grill or prepare the barbecue.
Break off 8 leaves from the lettuce and wash.
Peel and slice the red onion.
Slice the vine tomatoes.
Cook the wedges as per directions on the pack – either in the oven or deep fry.
Grill or barbecue the burgers for about 7 minutes each side.
Split the burger buns – and lightly toast.
Assemble the burgers –lettuce on the bottom bun, then tomato and onion, top with the beef burger, a slice of cheese and then on with the bun top.
Serve alongside the wedges and coleslaw.