These lettuce cups are perfect if you want to try something a little different.
Thai Style Chicken & Lettuce Cups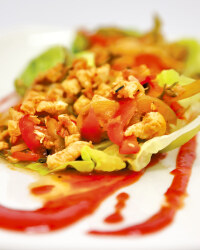 Recipe Information
Ingredients
2 Chicken Breasts, finely chopped or minced in a food processor
Drizzle of Olive Oil
½ fresh Red Chili
3 Scallions, sliced
200g fresh Beansprouts
100g sliced Water Chestnuts
100g sliced Bamboo Shoots
12 leaves of Basil, chopped
8 leaves of Fresh mint, chopped
1 finger of Ginger, grated
Salt & White Pepper to taste
4 tsp Fish Sauce
Small handful of Fresh Coriander, chopped
2 Limes, juiced
2 - 4 heads Baby Gem Lettuce
For the Sauce
3l warm water
24 small Red Peppers
250g Caster Sugar
100ml White Wine Vinegar
Method
For the sauce.
In a large pan add the peppers, water, caster sugar and white wine vinegar. Put on a medium heat and bring to a simmer.
Cook for approximately 20 minutes, or until the ingredients have reduced by two thirds. Remove from the heat and leave to cool. Blend to a sauce and reserve.
For the chicken.
Heat a wok with the oil until smoking. Add the chicken, season and sauté for 2 minutes. Now add the chili, water chestnuts and bamboo shoots. Season with salt and pepper.
Add the fish sauce, ginger and lime juice. Add the fresh herbs, scallions and adjust seasoning.
To serve.
Lay out 4 lettuce cups per person and fill with a spoonful of chicken mixture. Drizzle over the sauce & serve.