Fresh seabass coated in a vibrant, sweet Asian spices and baked until tender.
Thai Baked Seabass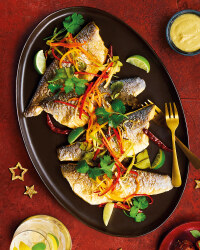 Recipe Information
Ingredients
4 Seabass Fillets
224g Thai Green Curry Kit
2 Spring Onions, thinly sliced strips
2 Mini Peppers, thinly sliced strips
10g Fresh Coriander
20ml Rapeseed Oil
1 Lime, cut into 4 wedges
Method
Pre-heat the oven to 200°C/Gas Mark 6.
Pat dry the sea bass, place on a greased baking tray and sprinkle over the herbs from the curry kit.
Top each fillet with some of the peppers and spring onion strips.
Bake in the oven for 15 minutes.
Meanwhile, gently fry the green curry paste in the oil for a few minutes.
Add the coconut milk and simmer gently.
Sprinkle the chopped coriander over the fish.
Serve the sea bass alongside the Thai green sauce, garnished with lime wedges.