Fluffy bread baked at home and topped with cheese. Rip and dip with family.
Tear and Share Garlic and Cheese Rolls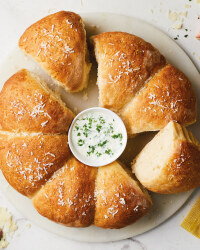 Recipe Information
Ingredients
1 x 500g bag White Bread Mix
320ml lukewarm Water
1 x heaped tsp Garlic Granules
30g Grana Padano Cheese, finely grated
10ml Garlic Olive Oil
1 x 200g tub Cheese and Chive Dip
1 x 25cm Round Shallow Baking Tin or Quiche Tin
Method
Empty the Aldi white bread mix into a large bowl and add the garlic granules and 25g of the cheese. Then follow the instructions on the pack – but make 8 rolls from the dough.
Put them around the tin in a circle, leaving a space in the middle for the dip. Cover with a clean tea towel and put somewhere warm for 30/40 minutes until they have doubled in size.
Pre-heat the oven to 230°C/Gas Mark 8. Gently brush the garlic olive oil over the top of the rolls. Sprinkle over the remaining cheese and bake in the oven for 20 minutes until golden brown and, when tapped on the base, sound hollow. Put on a wire rack to cool.
Serve with the dip in the middle.