Homemade noodles with fresh veg stir fry and chicken strips.
Sweet & Spicy Chicken Ramen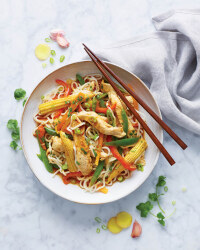 Recipe Information
Ingredients
Sauce
1½ tbsp Dry Sherry
1 tbsp Light Soy Sauce
1 tbsp Honey
1 tbsp Specially Selected Rapeseed Oil
1 tbsp Hoisin & Garlic Stir Fry Sauce
1 Garlic Clove, crushed
Thumb-sized piece Ginger, peeled and grated
1 tbsp Sweet Chilli Sauce
Stir fry
1 tbsp Rapeseed Oil
1 Garlic Clove, crushed
225g Chicken Breast, cut into strips
100g Carrots, peeled and cut into thin strips
100g Mangetout, halved
300g Mixed Peppers, seeded and cut into strips
100g Baby Corn, halved
3 Spring Onions, trimmed and chopped
2 x 300g packs Straight to Wok Noodles
Fresh Coriander, chopped, to garnish
Method
Combine all the sauce ingredients, mix well and set aside.
Heat the rapeseed oil in a large wok or frying pan, adding the garlic when hot.
Cook for a few seconds then add the chicken strips and stir fry for approx. 3 minutes until browned.
Add the vegetables and cook for a further 3-4 minutes until just softened.
Stir in the noodles and then the sauce.
Mix well until everything is coated in sauce and warmed through.
Sprinkle over the coriander and serve.