Sunday Chicken Dinner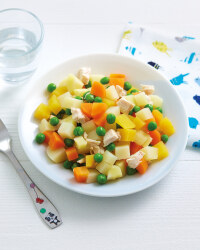 Recipe Information
Ingredients
60g peeled Carrot
60g peeled Parnsip
60g peeled Swede
120g peeled Potatoes
40g frozen Peas
65g cooked Chicken Breast Slices
Method
Chop all fresh vegetables into small chunks and boil for 15 minutes.
Add peas, bring back to the boil and cook for 5 more minutes.
Drain the vegetables but keep some water.
Finely chop chicken and add to vegetables.
Serve if your baby can eat solids. If not, purée with some of the liquid or their usual milk.