Try this Juicy stuffed pork fillet with just 15 minutes prep time.
Stuffed Pork Fillet & Colcannon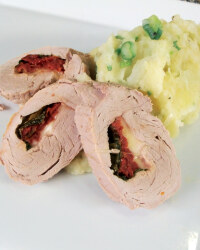 Recipe Information
Ingredients
50g Irish pork steak (fillet)
600g potatoes, peeled and roughly chopped
600g white cabbage, very thinly shredded
50g sun-dried tomatoes
75g low fat mozzarella cheese, thinly sliced
4 spring onions finely chopped
fresh basil leaves
100ml low fat milk
1 tbsp swiss vegetable bouillon or vegetable stock cube
salt and pepper
wooden cocktail sticks
Method
With a sharp knife cut the pork steak half way through along its length.
Cover with some cling film and flatten the fillet.
Place basil leaves, sun-dried tomatoes, mozzarella in the middle and fold close with the help of cocktail sticks.
Spray some oil on a piece of tinfoil, wrap the pork carefully and close the end to create a parcel.
Place on oven tray and cook in 200°C oven for 30 minutes.
For the colcannon, place the potatoes in a saucepan and cover with water. Bring to the boil.
Add the bouillon and shredded cabbage and simmer for 15- 20 minutes until soft.
Drain the cooked vegetables and place in a bowl.
Add milk, salt and pepper and spring onions and mash well.
Serve with 3 slices of pork fillet per portion.