A delectable mix of sweet and savoury. Try these cream cheese balsamic toasts with juicy strawberries.
Strawberry & Balsamic Toasts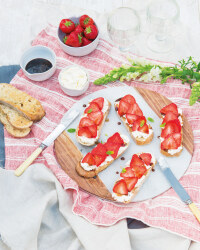 Recipe Information
Ingredients
200ml Balsamic Vinegar
Ciabatta Loaf, part-baked
Punnet of fresh Strawberries
Tub of Soft Cheese
Black Pepper
A handful of fresh Mint
Method
Start by making a balsamic reduction.
Place the balsamic vinegar into a saucepan and place over a high heat. Bring to a vigorous simmer and then turn down the heat to keep it at a low simmer. Keep simmering and stirring for about 15 minutes until the vinegar has reduced and thickened. Be careful to keep an eye on it towards the end so that it doesn't thicken too much. When it coats a spoon and drizzles well, it's done.
Slice the ciabatta loaf into rounds. Toast under the grill. Slice the strawberries.
Slather the toast with cream cheese and arrange the strawberries on top.
Drizzle with some balsamic reduction. Crack some black pepper on top. Sprinkle some finely chopped fresh mint on top. Serve immediately.